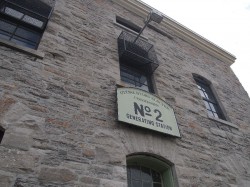 Energy Ottawa's No 2 Chaudiere Falls Generating Station is a new addition to the Doors Open Ottawa lineup of buildings this year.  Below is a summary of the information provided by the City of Ottawa about the event.
Mill St., Amelia Island (entrance is at the front of the building) [ map it ]
Sat. June 4  & Sun. June 5,  10 a.m. to 4 p.m.
Built by industrialist E.H. Bronson in 1891 during the lumber boom, the Chaudière No. 2 Generating Station is an NCC designated heritage building and one of the original buildings at Victoria Island. It is believed to be the oldest operating hydroelectric generator in Canada. The generators and turbines were completely refurbished in 2001 and a fourth generator was added increasing total output by 65%. Despite being automated and controlled remotely with state of the art electronics, all of the original equipment has been preserved and looks exactly as it did a century ago. Shoes must be closed toe and flat. Directions: take Booth Street north, turn at the NCC Victoria Island sign just north of the War Museum and follow signs.